12" | 通用 | Android 11 | Rockchip RK3566 | 2GB RAM & 32GB ROM | 重力傳感器 | Android 頭枕播放器 | HM121A
12" | 通用 | Android 11 | Rockchip RK3566 | 2GB RAM & 32GB ROM | 重力傳感器 | Android 頭枕播放器 | HM121A

12" 2160*1440 QHD Fully Laminated IPS G+G Touch Screen RK3566 4xSupercore 2GB RAM 32GB ROM Android 11 Headrest Player with Gyro Sensor Adaptive Portrait Mode 4K Video Playback Spectacular Picture Quality Multi-colorAmbient Light Multiple Themes Screen Mirroring HDMI Input/Output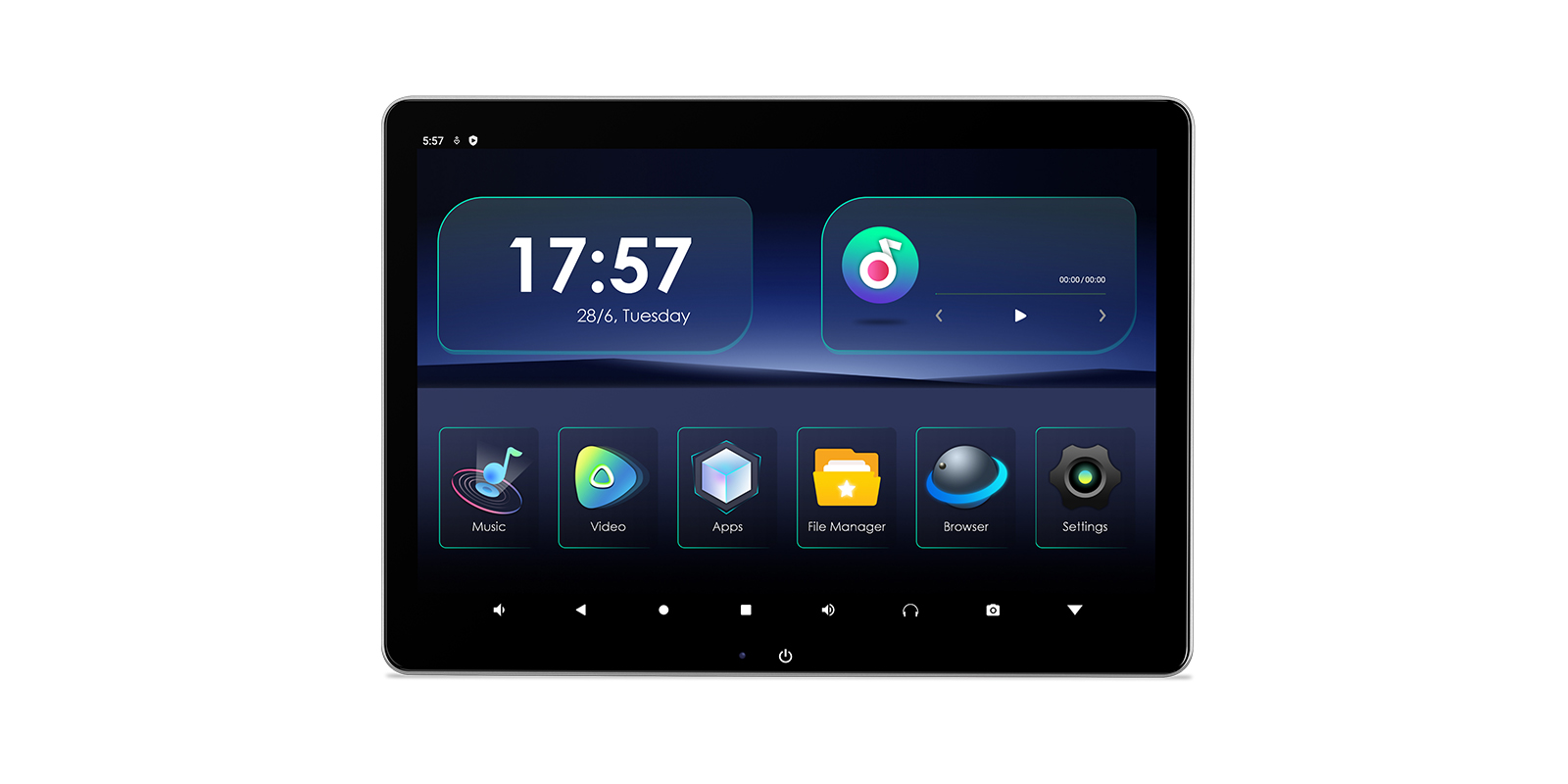 The New Generation of Rear Seat Entertainment
Android 11
The latest Android system gives you an abundance of up-to-date apps that help you get more out of this monitor. Get the speed and capacity to stay on the go, with upgraded high speed 2GB DDR4 RAM and 32GB SSD. 
FAST AND EASY INSTALLATION
Please see our headrest player installation guide 
There are three ways to power the headrest player - by plugging the adapter into your vehicle's cigarette lighter port, by connecting the ACC and GND cable to your car's fuse box, or by buying an optional XTRONS AC05 (not included) to use at home.
Magnificent Power
New Architecture Supercore Processor
An automotive-grade Rockchip RK3566 processor turns this screen into a powerful, fully-featured in-car entertainment monitor. The advanced 14nm Cortex-A55 and up to 0.8 Tops NPU with AI hardware acceleration puts it in a class of its own. 
Exceptional Detail on Display
A fully laminated QHD screen with 2160x1440 pixel resolution gives you double the pixel count of competitors, so you can play video with superior clarity. Minimalist design philosophy meets futuristic technology.
Refresh Your Experience with Portrait Mode
Thanks to the ergonomic swivel bracket and built-in gyro sensor, the portrait orientation and landscape orientation modes will automatically adapt, maximising your productivity. 
UHD 4K Video Decoding & Full Audio Playback
With the powerful G52 GPU, you can enjoy tons of media content from audio to video, HD to 4K UHD, online to offline, with a new level of fast decoding speed. 
Supports all mainstream video codecs: MPEG4/MKV/MPEG/MPG/WMV/AVI/MP4/RMVB
Supports full audio codecs:APE/FLAC/WAV/MP3/WMA/AAC
2160x1440 Pixels
Screen Mirroring
Supports AV Input
Multi-colour Lights
Built-in WiFi 
Built-in Speakers
HDMI IN/OUT
Professional Packaging
Incredibly Versatile Display with Extensive Connectivity
A multitude of connectivity options ensures wide compatibility with a variety of sources. The fun will never end on your journey. 
Wirelessly Connect Your Phone to the Larger Display
By connecting your phone via hotspots you can utilise the inbuilt screen mirroring function. Any content from your smartphone can be mirrored onto the display of the headrest player.
Stylish, Unique & Personalised Themes
Customise the theme and let the display blend in harmony with the interior. You have more than 20 themes to choose from. 
Sync the Happiness with HD Input & Output
Make the backseat a media centre and sync playback of your media files between devices. You can also connect more media devices via the HD port with high fidelity transmission.
Four Audio Output Options
Output sound directly with the built-in speaker, your wired 3.5mm earphones or a Bluetooth headphone, or transmit the audio singal to your original vehicle speaker through FM.
Note: The Bluetooth headphone is not included. XTRONS BH002 is compatible. Need it, please inquire now. 
SIZE
Face Panel: 280x200x30mm
ACCESSORIES INCLUDED
1 x ISO Wiring Harness
1 x Mounting Base
1 x Extension Cable
1 x USB Type-C to USB Adapter
1 x HDMI Adapter Cable
1 x Cigarette Lighter Cable
1 x Screwdriver Tool
1 x User Manual
IMPORTANT NOTES:

1. Please check the distance between your current headrest poles before purchasing.
The adjustable bracket distance for this head rest is 4.33Inch(110MM)-7.48Inch(190mm)
Max distance between the player and the bracket 3.5inch (90mm)
2. The hidden poles and cuboid poles don't fit.
3. This player only supports connecting 1 Bluetooth headset/headhone at the same time.
15 YEARS' EXPERIENCE
In-Car Entertainment
XTRONS has been working continuously to bring the latest technology and infotainment solutions to your driving. Our passionate and experienced R&D team equip our products with exclusive design, high quality components and the best coding communication between our products and your vehicle. 
The Xtrons Commitment
XTRONS is committed to providing high quality products and outstanding customer service, by ensuring that we meet and exceed industry regulations and standards, from manufacturing to distribution.
High and Low-Temperature Test between -20° and +80°
Electrostatic Test
8-hours Accelerated Aging Test
Verified In Car Test
Impact Test
1.2 Metre Drop Test
HD

High Definition provides a crisp resolution, maximising your in-car entertainment experience.

Bluetooth

Hook up your head unit to any Bluetooth device and access music, share videos and make calls hands-free.

3G

Enjoy the ability to roam the internet freely without restriction. Optional dongle required.

Wifi

Built in Wi-Fi allows for faster LTE download speeds and greater access to the internet, wherever you are.

Touch Screen

Multi-touch screen, provides a remarkably fluid and intuitive operation.

USB

A built-in USB port to upload, download & connect your music, files and information on the move.

HDMI

Connect & transmit your digital audio & video to display on screen.

Quad Core

Four-core processors (32-bit CPU) generate great power and performance from the heart of the unit.

Screen Mirroring

Mirror your smartphone to the unit and operate all the entertainment features. Play games, watch videos and enjoy.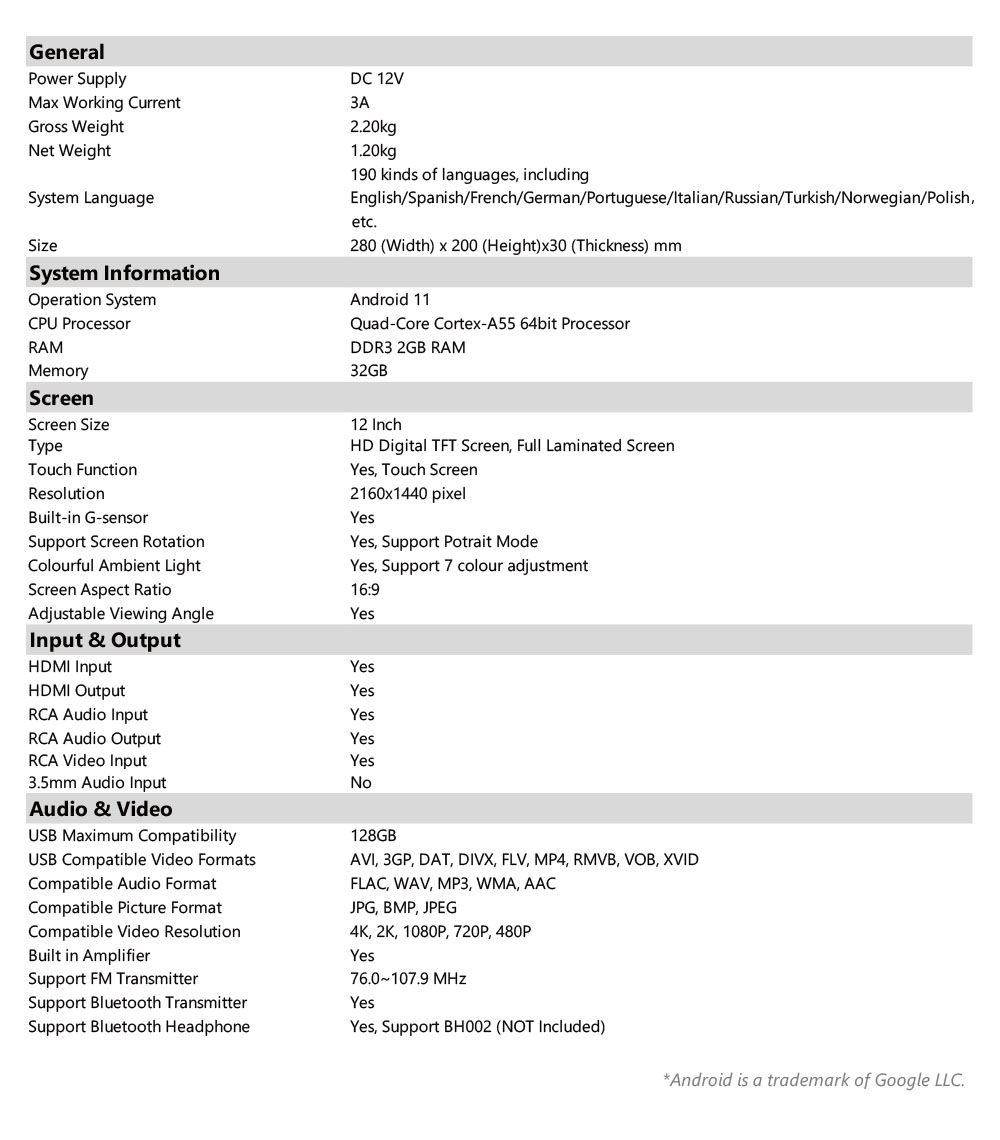 ICE/VDO/HM121A
Support Video
Product Support
Installation Videos

Product Videos

User Manuals

User Guides

Customer Support